Clara's Gifts: A retelling of the Nutcracker story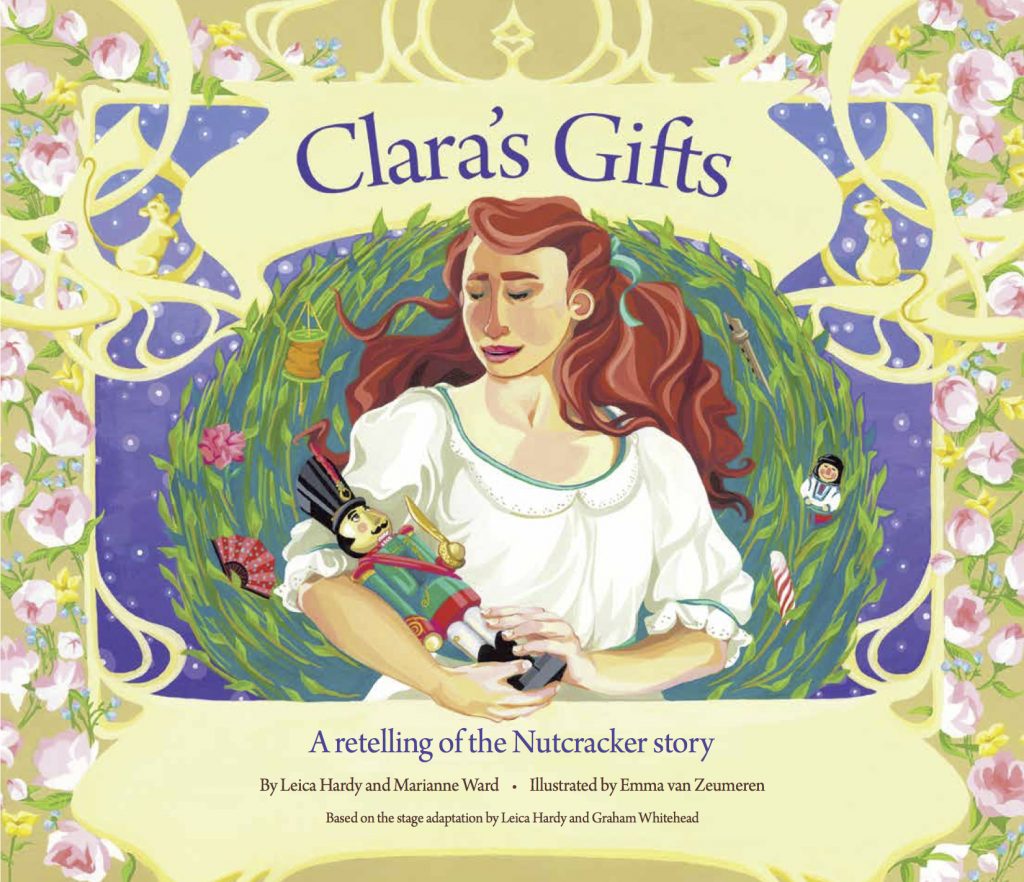 Clara's Gifts: A retelling of the Nutcracker story is a gorgeously illustrated picture book that tells the unique Nutcracker story adapted for the stage by Leica Hardy and Graham Whitehead and presented annually since 1991 by Symphony Nova Scotia in partnership with Halifax Dance and Mermaid Theatre of Nova Scotia under the artistic leadership of choreographer Leica Hardy. The lush illustrations by Emma van Zeumeren capture the magic, movement, and Art Nouveau-inspired design of the beloved stage production and perfectly complement the enchanting story, as told by co-authors Marianne Ward and Leica Hardy, of Clara's overnight journey from timid, fearful girl to confident young woman, thanks to the gifts of kindness, loyalty, friendship, and a very special nutcracker.
The 52-page hardcover keepsake book, priced at $25.00 CA ($26.25 CA tax included) is now available. For shipping outside of the Greater Halifax area please see our Order Form.
Please 'like' our Facebook page or the News page of the website to stay up to date about our book launch on Sunday, November 27, 2016 from 2:00-3:00PM at the Halifax Central Library, O'Regan Hall.

Purchasing the book
To purchase copies please download the Order Form and return a completed copy with your payment to:
Cracked Nut Press
c/o Leica Hardy School of Dance,
117 Crichton Ave., Dartmouth, NS, B3A 3R6
902-466-0101
info@leicahardyschoolofdance.com

Payment may be made with cash (exact change only), cheque payable to Leica Hardy School of Dance, or e-transfer to info@leicahardyschoolofdance.com. You will be contacted when the books arrive, and arrangements will be made at that time for pick-up or delivery (within the Greater Halifax area). Shipping is available to locations outside Halifax, at the expense of the purchaser.
The Team Behind Clara's Gifts
Leica Hardy, Co-author
Leica is a master teacher, artistic director, and choreographer. In 2002 she founded the Leica Hardy School of Dance and ten years later founded KiDanCo for pre-professional dance artists. In 2011 Leica received an Honorary Doctorate of Fine Arts from Saint Mary's University for her contribution to dance and the arts. In 2015 Leica celebrated her 25th season as director/choreographer of Symphony Nova Scotia's The Nutcracker, where she can be found in the audience applauding her husband Christopher Wolfe in his annual performances as Mr. Nuss. She will forever be proud of her daughter, Rebecca Wolfe, and her emerging career as an actor. leicahardyschoolofdance.com
Marianne Ward, Co-author
Marianne is a freelance book editor and life-long dance lover. As publicist for Symphony Nova Scotia in the 1990s, she fell in love with their unique production of The Nutcracker. Years later, preparing to take her four-year-old daughter Josephine to see the production for the first time, she wished there was a book she could read her that told the story of the particular Nova Scotia adaptation of the ballet. Marianne is thrilled to have been part of creating that book and is delighted that her younger daughter Vivian, a student of Leica Hardy's, is currently a dancer in Symphony Nova Scotia's The Nutcracker. marianneward.ca
Emma van Zeumeren, Illustrator
Currently studying for her Bachelor of Fine Arts at NSCAD University in Halifax, Emma is delighted to have been given the opportunity to illustrate her first book. Three of her films won Best Animation in the AFF ViewFinders competition, also garnering the grand prize and the People's Choice award. Her most recent animated film, The Wind in a Frolic, was screened at the 2013 Atlantic Film Festival. Emma was a long-time dance student of Leica Hardy's and is an alumnus of The Nutcracker. After performing in the production for seven years, Emma has a special place in her heart for this beautiful adaptation and hopes that her artwork reflects that.
Jodie Hansen, Designer
With a background in illustration from Sheridan College in Ontario, Jodie Hansen is Senior Graphic Designer at Trampoline in Halifax, Nova Scotia, where she has worked for over 20 years. She also explores her creative talents within crafts and design, making and selling handcrafted cards among other items throughout Nova Scotia and Ontario. Jodie is no stranger to the dance community; her children Amanda and Emma started dancing at the Maritime Dance Academy at the age of four, and Amanda is still dancing.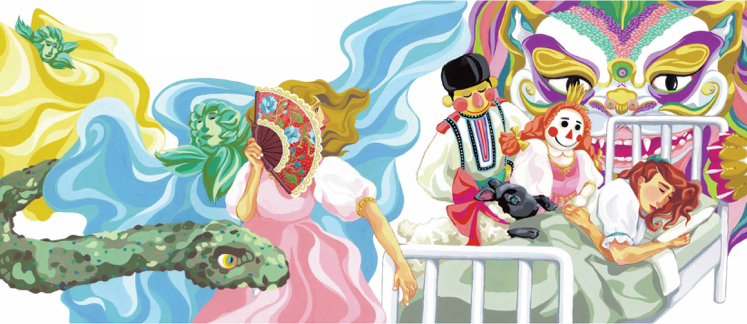 Illustrations copyright © 2016 by Emma van Zeumeren