By Kendra Armstrong
Parenthesis
Season: 2016
Music: Feeling Good (Bassnectar remix) by Anthony Newley, Pennies From Heaven by Arthur Johnson & Johnny Burke
Retraction
Season: 2018
Music: I Want You Back by Berry Gordy, Freddie Perren, Alphonso Mizell and Deke Richards
By Peggy Baker
Brahms Waltzes
Seasons: 2012, 2013
Music: Selections from Brahms Waltzes, Op. 39 by Johannes Brahms
Costume: Leica Hardy
Brahms Waltzes was inspired by Ms. Baker's studies with the great American solo dance artist Annabelle Gamson, who has dedicated herself to maintaining the technique and choreographic legacy of Isadora Duncan.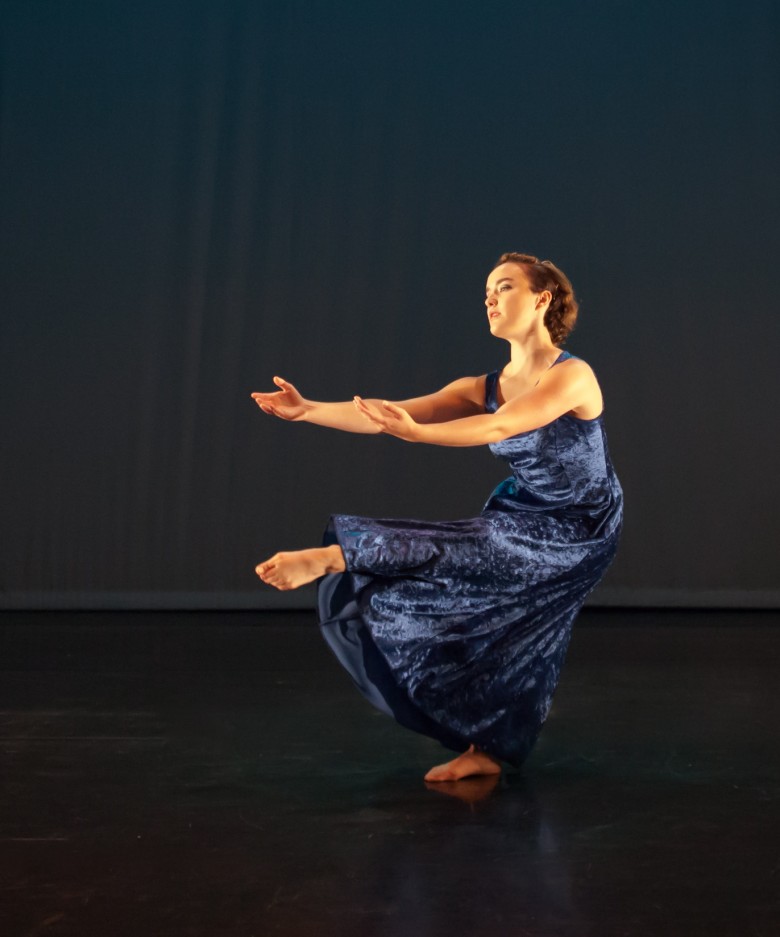 Vivika Ballard in Brahms Waltzes by Peggy Baker
Unfold
Seasons: 2014, 2015
Music: Selections from 24 Preludes, Op. 11 by Alexander Scriabin performed by Mikhail Pletnev
Costume: Leica Hardy
Created in 2000, her work Unfold was originally created as a self-portrait of Baker's life and career to date. Ms. Baker has created a unique group staging of Unfold that elicits a personal connection to the choreography from each of the cast members.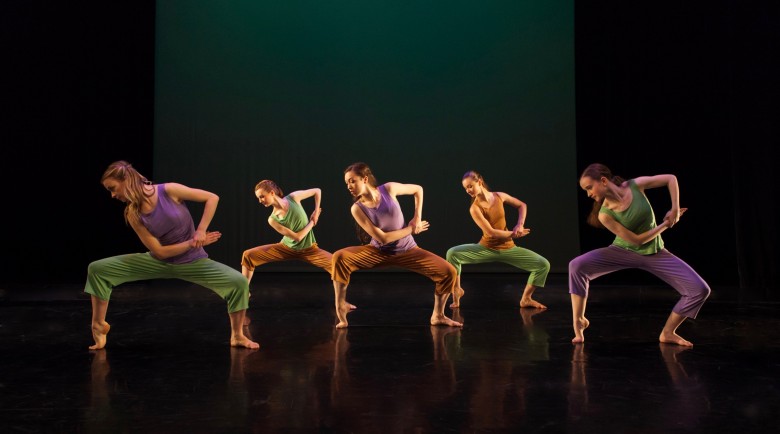 L to R: Hayley Bone, Emma Van Zeumeren, Julia Sarty, Lucie Schmidt & Elizabeth March in
Unfold by Peggy Baker
By Camille A. Brown
Been There, Done That
Season: 2013
Rehearsal Director for Ms. Brown: Francine E. Ott
Music: My Sweet Thing by N. Wilson, T. Edwards, G. Wilson
Been There, Done That is an excerpt from a larger work of the same name that was originally co-commissioned by the Jacob's Pillow Dance Festival. This work tells the struggles of a dancing duo from the 1950/60′s.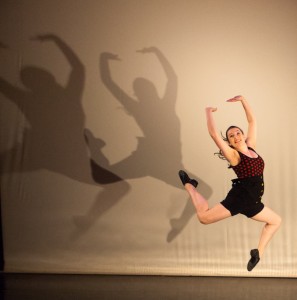 Rebecca Wolfe in Been There, Done That
by Camille A. Brown
By Leica Hardy
Bach Unaccompanied
Seasons: 2013, 2015
Music: Saraband, Menuett 1 & 2 and Gigue from Unaccompanied Cello Suite No.1 in G Major by J. S. Bach
Costume: Leica Hardy
A contemporary choreographic look at the emotional undertones and rhythmic playfulness of Bach's composition.
Circlesong
Season: 2016
Music: Circlesong One by Bobby McFerrin
Costume: Leica Hardy
Circlesong celebrates feminine power, which is expressed through movements restricted to circular pathways and shapes. A human henge defines the perimeter of the space creating an abode for the soul.
Concordia
Season: 2012
Music: Concordia by Dave Brubeck
Costume: Leica Hardy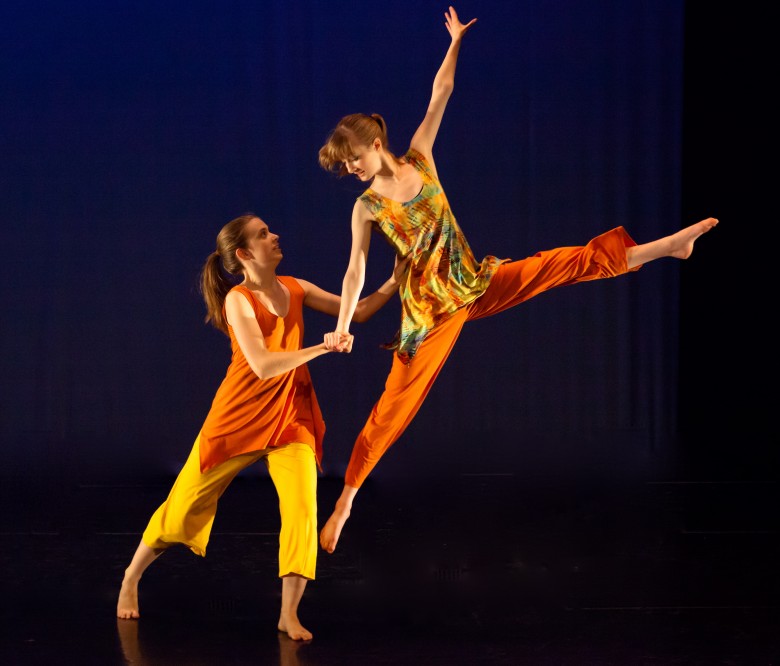 L to R: Michelle Lehman, Emma Van Zeumeren in
Concordia by Leica Hardy
Dvořák Serenades
Seasons: 2012, 2013, 2018
Music: Moderato, Tempo Di Valse, Scherzo Vivace from Serenade for Strings in E major, Op. 22 by Antonin Dvořák
Dvořák Serenades is a lyrically beautiful work that captures the delicacy and fluidity of Dvořák's breathtaking composition.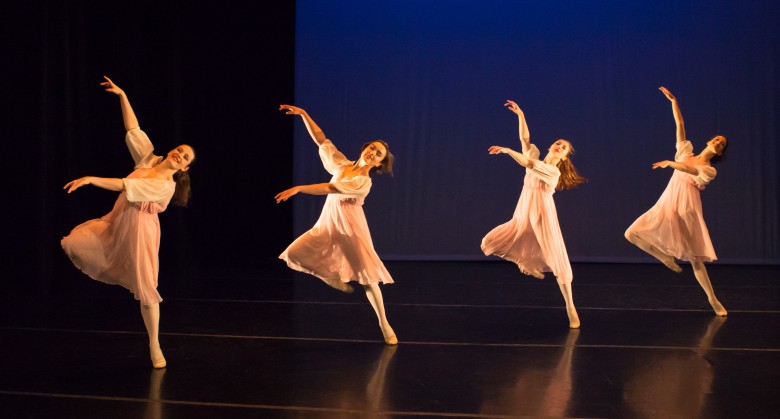 L to R: Rebecca Wolfe, Vivika Ballard, Anastasia Wiebe, Hilary Knee in
Dvořák Serenades by Leica Hardy
Interlaced
Season: 2015, 2016
Music: The Northern Three, Forked Deer, Brigitte, As We Pray, Hewlett's & Box Man by The Fretless
Costume: Leica Hardy
Interlaced is a modern dance cèilidh to the joyful music of Canadian band, The Fretless. Patterns and movement themes from square and Scottish social dance, and Celtic knot-work give the work a feeling of community and sharing.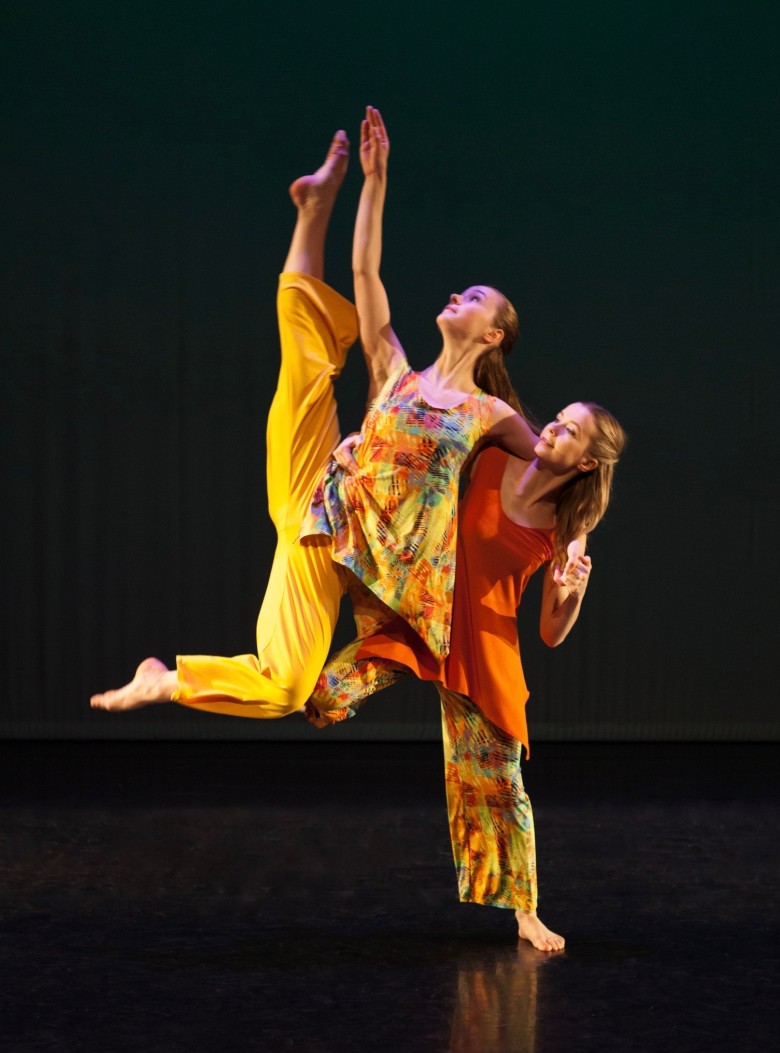 L to R: Lucie Schmidt & Hayley Bone in
Group of 5 from Interlaced by Leica Hardy
Legacy
Season: 2014
Music: Arrival of the Queen of Sheba by Handel
Costume: Leica Hardy
Legacy is an ode to the freedom and beauty of classic modern dance.
Murmuration
Seasons: 2013, 2014
Music: Hello Night, The Last Bird, We Insist, Flying & Flocking by Zoe Keating
Costume: Leica Hardy
A murmuration is defined as a flock of starlings. Themes of flight and bird-like movements; murmurs of the heart and voice add a deeper layer of meaning to the work.
L to R: Emma Van Zeumeren & Jillian Conrad in
Murmuration by Leica Hardy
Original Rag
Season: 2013
Music: Original Rag by Scott Joplin
Costume: Leica Hardy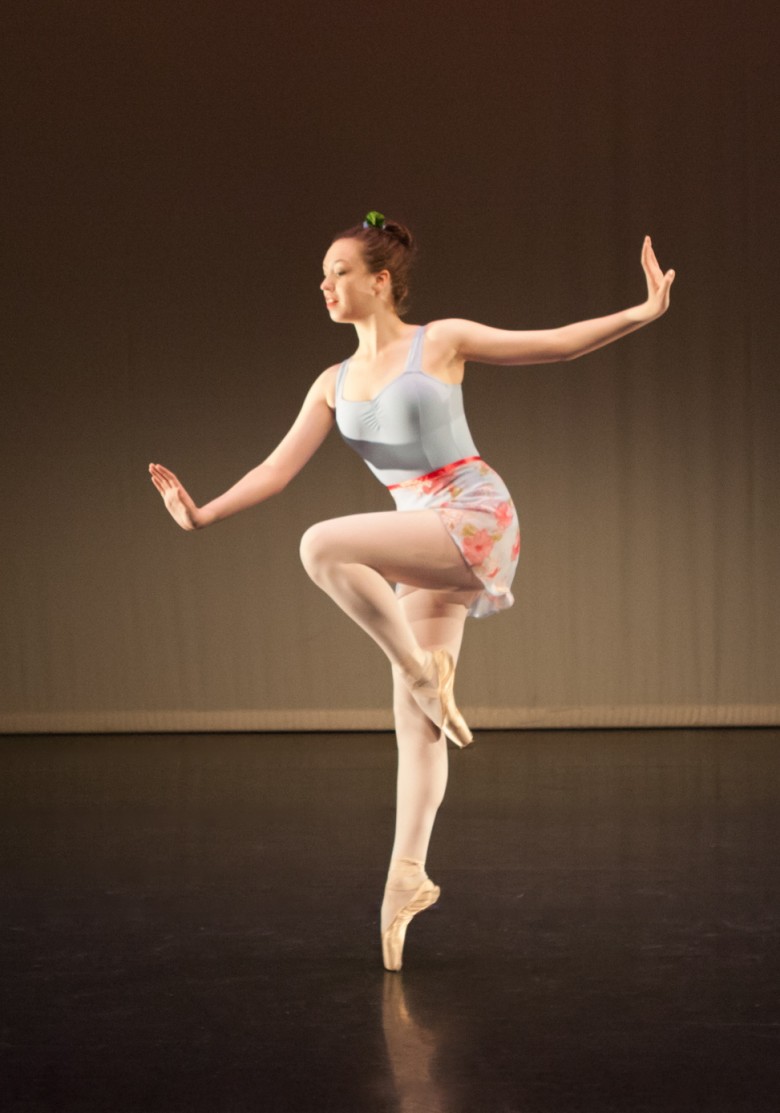 Julia Sarty in Original Rag by Leica Hardy
String of Pearls
Season: 2012
Music: Pearl by Jean-François Côté
String of Pearls is a tender work that portrays the emotional connectivity of a group of friends. The characters are formed and transformed by their changing relationships and emotions.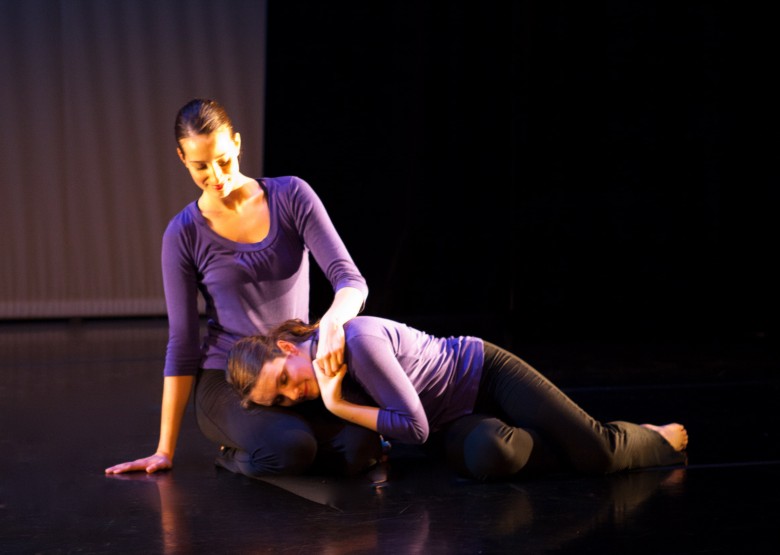 Top to Bottom: Hilary Knee & Rebecca Wolfe in
String of Pearls by Leica Hardy
Tell It Like It Is
Season: 2012
Music: Tell It Like It Is by Tracy Chapman
Tell It Like It Is explores the rebellious honesty of Ms. Chapman's lyrics and the adage that truth can hurt.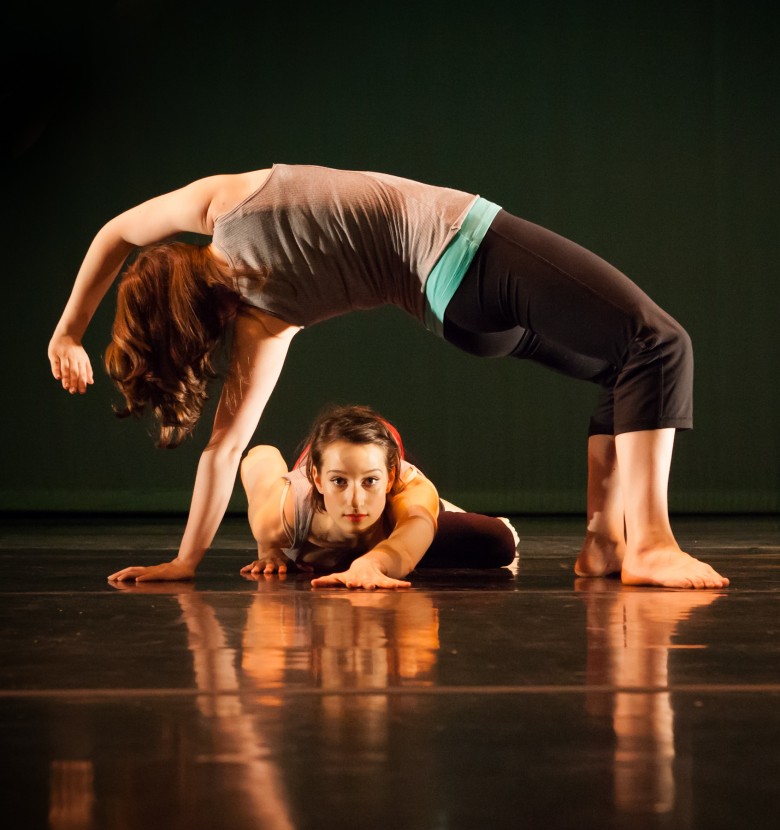 Top to Bottom: Rebecca Wolfe & Hilary Knee in
Tell It Like It Is by Leica Hardy

Waterways
Season: 2017, 2018
Music: Selections by Ludovico Einaudi
The movements of water, fish and sea life become an abstract allegory for the emotional journeys of the company's 12 dancers.The work is a balance of strictly choreographed work, thematic movements developed from guided improvisations and purely improvisational performances.

We Three
Season: 2014
Music: We Three, My Echo, My Shadow & Me by Robertson, Cogane & Mysels
We Three is the laughable story of a trio of gum chewing cleaning ladies en-pointe.
BY Ruth-Ellen Kroll Jackson
Ephiphanot (a non-epiphany)
Seasons: 2016, 2017
Music: Varianiuni, Cocek, NaftuleShpilt Far Dem Rebn by Lara St. John, traditional Jewish music arranged by Lara St. John & Matt Herskowitz
Costumes: Leica Hardy & Ruth-Ellen Kroll Jackson
One Needs A Little Courage To Live
Season: 2015, 2016
Music: Apocalyptic by Alaska, Violin Duet by Black Ox Orkestrar, Kook Aid River by Secret Mommy, Für Alina: 2 by Alexander Malter, Shiny Plastic Bags by Mark Berubé & the Patriotic Few
If you never step out of your comfort zone and take a risk, that zone will slowly being to shrink. It takes courage to take that first step again and again.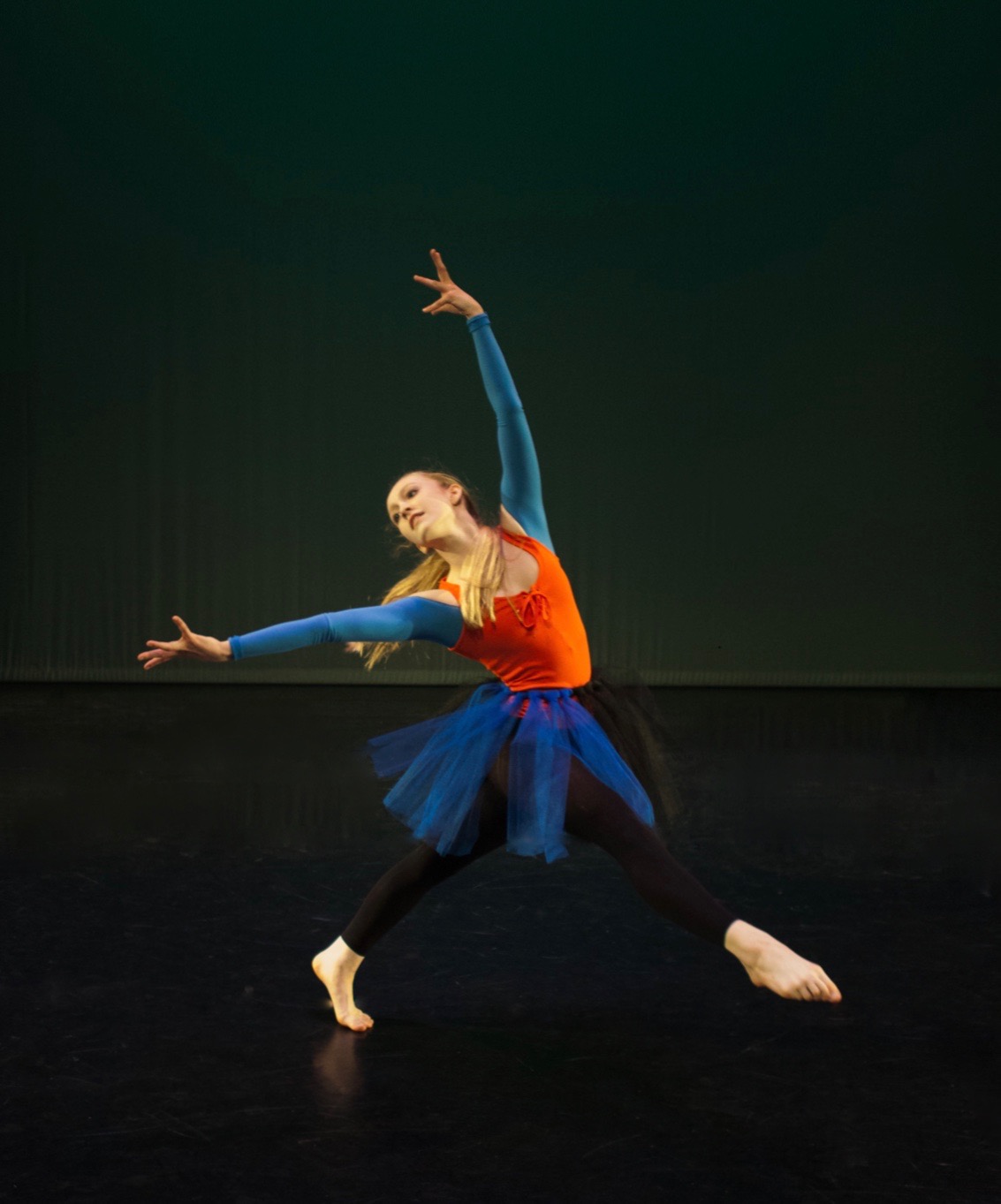 Denver Scott in One Needs A Little Courage to Live
by Ruth-Ellen Kroll Jackson
To Pulsate
Seasons: 2017, 2018
Music: A Soft Throbbing of Time by Frank Bretschneider
BY Rebecca Lazier
Joy of F# Minor
Seasons: 2012, 2013
Music: Joy of F# Minor by Paul Lansky
A contemporary study in kinetic texture for seven dancers.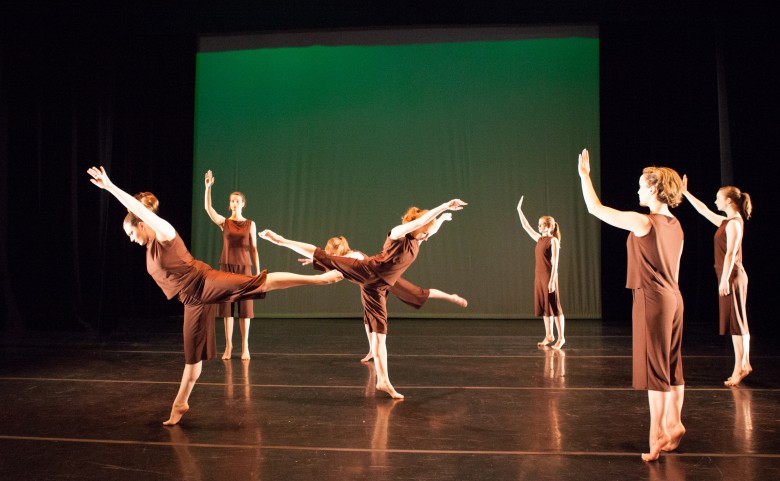 The company in Joy of F# Minor by Rebecca Lazier
By Michelle Lehman
You Say Goodbye & I Say Hello
Season: 2012
Music: Hello, Goodbye by Paul McCartney
Costume: Michelle Lehman, Emma Van Zeumeren
"A true friend thinks you are a good egg, even if you are half-cracked."
Hello, Goodbye was the winner of the 2011 Taking Steps To Fly Choreographic Competition for the 14-17 year old category, sponsored by Kinetic Studio & Dance Nova Scotia.
By Veronique Mackenzie
Vent
Season: 2014
"Try to relax and enjoy the crisis" – Ashleigh Brilliant
By Alexis Milligan
Ewigkeit
Season: 2012
Costume: Leica Hardy
In German, the word Ewigkeit has multiple meanings: eternity, immortality, forever, eternality.The piece was created and developed with the dancers through improvisational explorations on the subject of "beauty".
L to R: Hayley Bone, Emma Van Zeumeren, Lucie Schmidt & Jillian Conrad
in Ewigkeit by Alexis Milligan
BY SARAH MURPHY
PLAYGROUND
Season: 2017
Music: Partita No. 4 in D Major: Sarabande by Bach, Ingenue by Thom Yorke
The playground is an environment that individuals enter to meet, interact, play and are encouraged to explore their behaviour inside of a choreographic structure. Come play with us!
By Malika Srivastava
The Gossips
Season: 2012
Music: Raunchy Rita by Richard Davis
Costume: Leica Hardy
A theatrical mix of dance and improvisational dialogue that looks at teenagers and their penchant to "talk".
By Darryl Tracy
Chiralities
Seasons: 2013, 2016
Music: Shift Register by Robert Henke
The title means chirality or an object that is not completely symmetrical and the same as another. It is often used when describing protons and molecules, but used also to describe handedness and the fact that a human's left hand is never the same as the right in harmony. This is poetic when thinking of humans – we are all a bit different and unique.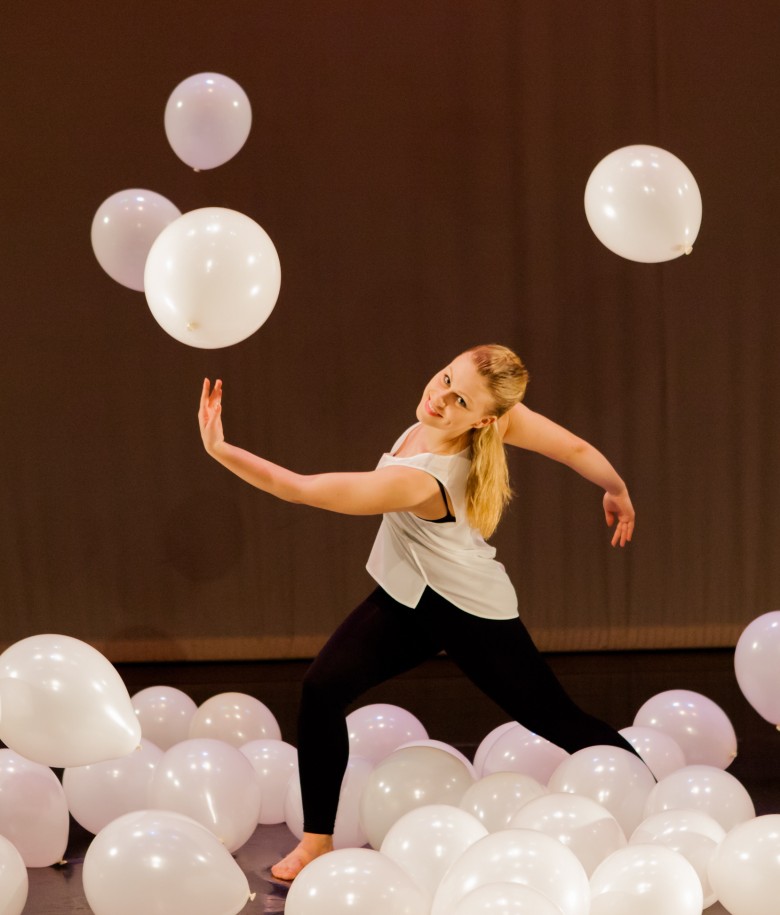 Jillian Conrad in Chiralities by Darryl Tracy
A Tale of Obscure Sorrows
Season: 2018
Music Samplings: The Question by Bovine Life + Comet, 0165(Tool) by Endless, Perc & Giorgio Gigli and some surprises from the 80's
Music Editing: Darryl C. Tracy
A Tale of Obscure Sorrows was initially inspired by John Koenig's Dictionary of Obscure Sorrows. "Koenig has made up new English words that attach to emotions we feel in current times — words such as avenoir, anecdoche and anemoia. Avenoir being the desire that memory could flow backwards, anecdoche being when everyone is talking, and nobody is listening, and anemoia being a time you've never known. The dancers wrote interpretations of the words, and we built movement from that creating an abstract landscape. We created by using chance. This is not a narrative piece but a state of obscurity."  — Darryl Tracy
By Anastasia Wiebe
Circadian Rhythm
Season: 2021
Choreographic Collaboration: Mackenzie Tomlin
Music: Circadian Rhythm by Branden Nelson
Videography: Ryan Lowe
Video Editing: Anastasia Wiebe
The choreography and original music for Circadian Rhythm was commissioned as a graduation video project for company member Mackenzie Tomlin.
Down the Line
Season: 2019
Music: Symphonies of the Planets (Voyager Recordings) by Jeffery Thompson, Can Be by Tanner Torun, By the Deep Sea by Federico Albanese, Mauer Blues by Federico Albanese, Form By Firelight by Jon Hopkins, Abandon Window by Jon Hopkins, The Things We Do by Alaskan Tapes
Text: Rebecca Wolfe
Down the Line was a co-production with Nostos Collectives Dance.
Through grief and anxiety we have the ability to get lost in our thoughts and forget that we are connected to a larger community. Down the Line studies that even though we may lose sight of our connections to these communities, they always exit, pulling us back to reality and a safe state of mind. There is a strong female energy in the work, focusing on the bonds that hold us together and teach us that there are some lessons we learn our time and some lessons that we will never be prepared for.  — Anastasia Wiebe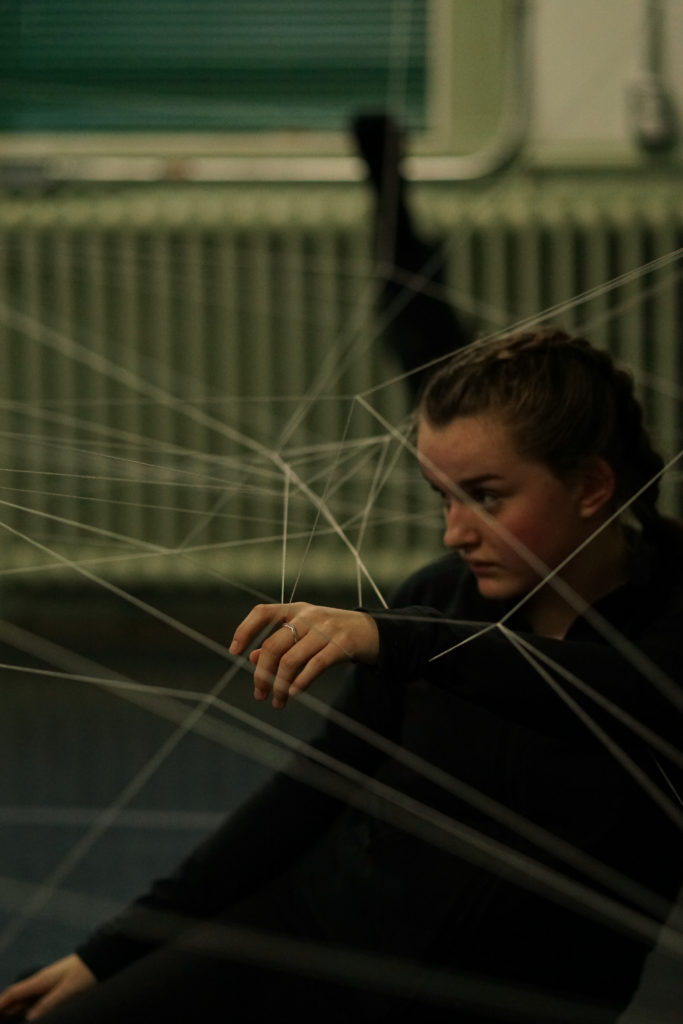 Grace Skinner in Down the Line by Anastasia Wiebe
Penumbra
Season: 2018
Music: Goodnight Day by Jóhann Jóhannsson, Petrichor by Set & Setting, Driven by Kiasmos, III by Iguana Moonlight
 By Lydia Zimmer
Moonlight
Season: 2017
Music: Path 5 (Digitonal's Theo in Dreamland Mix) by Max Richter & Grace Davidson
Photo of Down the Line by Yukiko Asada.
All other photos this page by Cathy McKelvey.